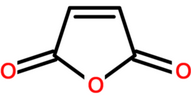 Product name:Maleic anhydride
CAS:108-31-6
Molecular Formula: C4H2O3
Molecular Weight: 98.06
Product description:The crystal orthorhombic system colorless acicular or flake. Generate maleic acid soluble in water. Soluble in ethanol and generate the ester.1. Used for production of 1, 4 - butanediol, gamma butyrolactone, tetrahydrofuran, succinic acid, unsaturated polyester resin, alkyd resin and other raw materials, also used in medicine and pesticide. 2. Act as collector in metal processing 3. Used in organic synthesis, also used as synthetic intermediates 4. Maleic anhydride is an important basic raw materials, unsaturated organic acid anhydride in the production of pesticides used in the synthesis of organophosphorus insecticide sulfur phosphorus intermediate maleic acid diethyl ester, pyridazine sulfur phosphorus intermediate 1 - phenyl - 3, 6 - dihydroxy pyridazine, and amine chrysanthemum ester pyrethroids pesticide, fungicide, captan intermediates, in addition, also used in the production of unsaturated polyester resin, ink additives, paper additives, coating, and pharmaceutical industry, food industry, etc.