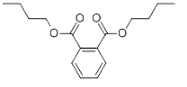 Product name:Dibutyl phthalate
CAS: 84-74-2
Molecular Formula: C16H22O4
Molecular Weight: 278.34
Product description:The goods as plasticizer. For a variety of resin has strong solvency. Mainly used in PVC processing, good softness can be assigned to products. Due to its relatively low price and good processability, is widely used in home, a few with DOP. But volatile and water extraction is bigger, so the durability of products is poor, should limit their use. The goods is a good plastic, cellulose nitrate gel ability. Used for cellulose nitrate coating, have very good softening effect. Stability, resistance to flexure, viscosity and water proofing property is excellent. In addition, the goods can be used as a poly vinyl acetate, alkyd resin, ethyl cellulose, and neoprene plasticizer, can also be used in the manufacture of paint, glue, leather, printing ink, safety glass, celluloid lubricant solvent, dye, pesticide, spices, fabric, etc.