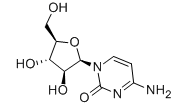 Product name:Cytarabine Hydrochloride
CAS: 147-94-4
Molecular Formula: C9H13N3O5
Molecular Weight: 243.22
Product description:Cytarabine is first extracted from Streptomyces broth, again after chemical synthesis preparation of a purine nucleoside antiviral drugs, white crystalline powder, very slightly soluble in water, its single phosphate soluble in water. HSV1 and HSV2 of herpes simplex virus, hepatitis b virus, varicella - zoster virus and cytomegalovirus DNA virus has inhibitory effect, but the smallpox virus, adenovirus, other DNA or RNA viruses, bacteria and fungi had no effect. Cytarabine antiviral the exact mechanism is not fully elucidated, mainly related to the inhibition of viral replication.