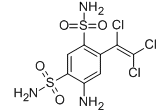 Product name:Clorsulon
CAS: 60200-06-8
Molecular Formula: C8H8Cl3N3O4S2
Molecular Weight: 380.6558
Product description:Can inhibit the degradation of glucose enzyme, blocking the main energy source, liver fluke and pest suppression effect. Can further study shows that chloride ShuLong competitive inhibition 8 - glyceride kinase phosphate and phosphoric acid glyceride mutase, blocking the oxidation of glucose to acetate and propionate. In addition, chlorine ShuLong can inhibit liver fluke of adenine nucleotide triphosphate (ATP) levels. Subcutaneous injection of chlorine ShuLong, in 24 h after dosing, maximum level of blood drug concentration, in 21 days, blood drug concentration at the treatment level.