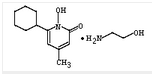 Product name:Ciclopirox Olamine Ointment
CAS: 41621-49-2
Molecular Formula: C12H17NO2.C2H7NO
Molecular Weight: 268.35
Product description:This product is a white crystalline powder; Odourless, taste bitter. It is easily soluble in methanol, ethanol or chloroform, in DMF or slightly soluble in water, slightly soluble in ether.Is mainly caused by changing the fungal cell membrane integrity, the outflow in the cell, and blocking the protein precursor uptake, lead to fungal cell death, to the skin tinea bacteria, yeast and mold have stronger bacteriostasis and sterilization effect, permeability is strong. For a variety of actinomycetes, gram-positive and gram-negative bacteria and mycoplasma, chlamydia, trichomonas and also to have certain inhibition.